Well, the Great Alaska Sportsman Show is over and fishing season is officially here. All and all, we had an awesome time. It's always nice to reconnect with everyone after the long winter months, to hear what's new and put plans in motion. This season officially marks our 19th (or is it actually the 20th?!) anniversary of operation and we are all set for Prince William Sound!
Boat Rental Manager, Greg Clifford, brought his young daughter, McKinley, to the arena. As you can plainly see, she wasted no time showing everyone how it's done with the little Fishing Pond!

We also got the chance to view the new boats offered by Peregrine Falcon. Just incredible workmanship offered by an equally incredible crew.  Can't help but admire their dedication all the more…the weather in the lot was pretty miserable, but they just kept laughing, never letting the clouds and wind get the better of them.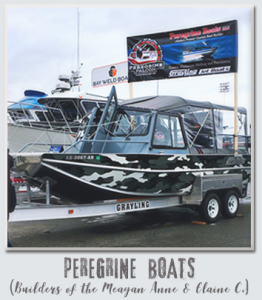 Thanks again for all the questions and interest! Spaces and dates are filling fast, but we are still offering a few shoulder season SPECIALS on charters, overnight trips and rentals. Looking forward to getting the boats back on the water within the next week or so. If the Whittier snow ever decides to show mercy and ease up! (Can't complain too much…we've had a break for the past few years, but this time around, winter's seriously trying to hang on.)