Well, last weekend we had an amazing time participating in the Homer Winter King Tournament. We didn't get our lines on any money fish, but got a wonderful fresh seafood dinner out of the deal! Our son Macen, Junior-Captain-in-Training ™, spent hours learning the controls while trolling The Lucky Strike.
This coming weekend we will be at the Sullivan Arena (March 30th – April 2nd), all ready to talk charters and boat rentals at The Great Alaska Sportsman Show. Looking forward to seeing you there!
Let us help you put together the trip of a lifetime on Prince William Sound!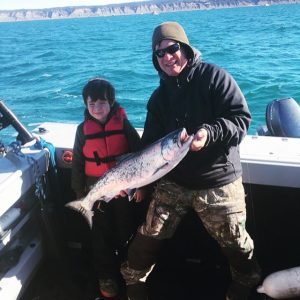 Yep, fishing season is upon us…