Whittier Fishing Charters
Whittier Halibut Fishing

The halibut day trip is far and away our most popular trip. While the first priority is finding a limit of halibut for everyone onboard, other species are typically caught as well. Depending on time, weather, and availability, you can expect to see rockfish, lingcod, cod, as well as salmon on a halibut day trip.
We'll depart Whittier at approximately 7AM and return at approximately 6PM. We will generally run thirty to ninety miles from port (1-3 hours of travel time) and will have the option of fishing the protected waters of Prince William Sound or the more remote open ocean waters of the Gulf of Alaska.
If your party has the boat exclusively, we can customize the trip to meet your expectations. There will be a maximum of six anglers aboard and we will price match any competitor in Whittier who runs a similar trip.
Prince William Sound Salmon Fishing

Prince William Sound is home to five salmon hatcheries as well as numerous wild runs and the Sound is full of salmon for most of the summer season. Along with the silvers, pinks, and chums that flood into the hatcheries, we also pursue those famous Montague Island kings in May and June as well as Sockeye (reds) at Main Bay. Call anytime for more information on run timing and scheduling.
Rates: varies with distance traveled from port. Call for more information.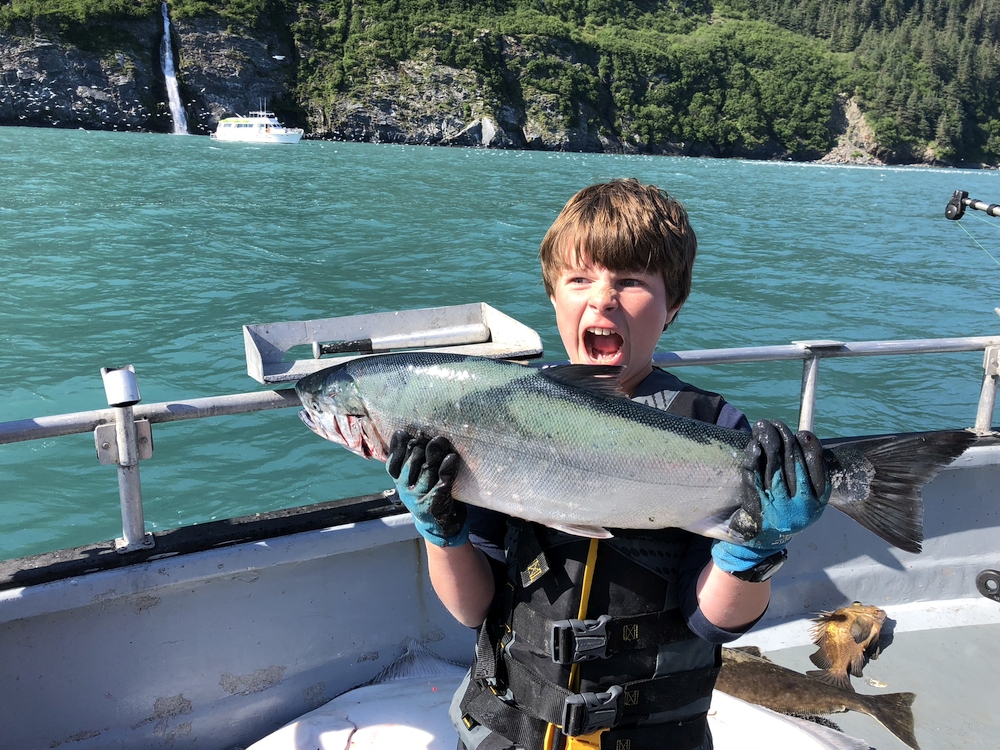 OTHER SPECIES: Rockfish, Lingcod and more

Prince William Sound and the Gulf of Alaska provide anglers with world-class opportunities to land amazing Rockfish and Lingcod. While these trips can be done in combination with halibut fishing, a stand alone charter allows ample time to reach more remote waters.
While the sport fish potential of the Pacific cod has not been fully realized, they are coming of age. If you'd like to fill the freezer with some tasty cod fillets, give us a call.
Prince William Sound Deep Drop Fishing
Some people call fishing deeper than 600′ "deep drop fishing". We just call it fishing and we've been doing it for a long, long time. Captain Ted Raynor is undisputedly the father of deep drop fishing in Prince William Sound. Ted's customers were reeling up monsters from the trenches long before two speed and electric reels were even thought of. Everyone who fishes deep in PWS learned something from Ted and we've taken it to the next level. The deep waters of Prince William Sound and the Gulf of Alaska are one of the most untapped sport fisheries in the state. If you're up for something different, we can take you on an adventure to the abyss for behemoth rockfish, halibut, black cod and possibly a giant squid or a sleeper shark.
SALMON SHARK 
Yes…there are sharks in Alaska. Salmon shark fishing in Alaska became popular in the late 1990s when numbers soared in a few areas of Prince William Sound. Sharks could often be seen feeding- literally boiling in schools and it was game on for a few interested charter captains in Seward, Valdez, and Whittier.
Around 2005, the numbers of sharks and fishing success declined and interest waned in favor of faster fishing for other species. A few years ago we noticed that the sharks seemed to again be on the increase. After a satellite tagging project and running a few catch and release trips, we've concluded that we can now run a few shark trips with the expectation of reasonable success. If you're interested in an epic battle that will pin you to the rail, put a salmon shark on your list. Nothing in Alaska pulls harder.
Most of our shark fishing these days is catch and release. If you're looking to bring one back, we strongly recommend keeping only one shark per group.
Salmon sharks can easily top 400 pounds and leave you with an overabundance of meat. Sharks that are kept will be processed and iced immediately to ensure their quality for the table.
Rates: Call for information, dates, & pricing. Full Day exclusive only.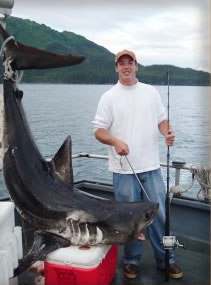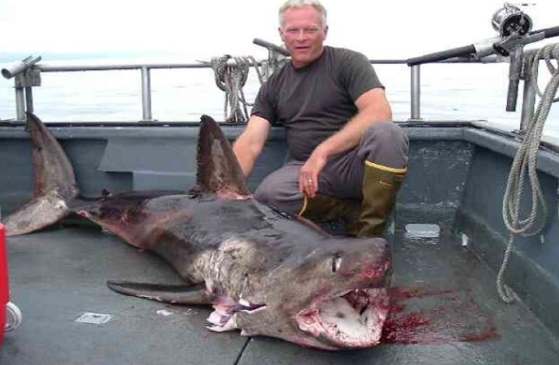 WHAT DO I NEED TO BRING?
On the day of your charter, be sure to have:
Food & Drinks

Layered clothing for rain or shine
Looking for more photos? Please visit our Gallery page…